August 25th, 2013 Posted in
The SandGram v1.0
One of the finest Officers I have ever worked with has taken a position over in Kenya.  He is an excellent writer and here is his first update.  Captain Alex Martin, USMC Officer and a man of the world…
S/F
Taco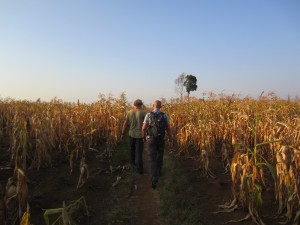 Hey friends…an update from my first week on the project…
Waking up.  It's Saturday morning at the Nuru House in Isibania, Kenya and I'm halfway through my second cup of black coffee, well-rested after being lulled to sleep by a hard evening rain.  I was dog tired after my first full week on the project here.  It's a gratifying fatigue – the type we knew at the start of a long deployment; the sort where your mind, body and soul attempt to find a compatible rhythm in a new environment.  I've been walking everywhere and so my feet are getting tough again.  I'm happy for that.  On Thursday afternoon a woman in her fifties passed me on a rough gravel road.  She had a bag of seed on her head.  Her grand-daughter was strapped to her back.  She was barefoot.  She smiled and waved as she passed.  It was one of hundreds of moments this week alone that I realized just how soft and weak I am.
Location.  The Nuru House is located in Isibania, a tough Tanzanian border town inhabited by tough border people.  Isibania is in Kuria West, which is one of the absolute poorest districts in Kenya.  The Nuru Regional Training Center (Nuru Kenya's Headquarters) is about 2 1/2 miles from our house, off the main road that makes its way north and east back to Nairobi.  The trip is 8 hours by bus across the great Rift Valley (though ours took 11 due to a few breakdowns).  Kuria is south of Lake Victoria and west, northwest of the famed Masai Mara, an extension of Tanzania's legendary Serengeti.  The land here is rich and inspiring and rivals the majesty of Scotland's Hebrides.  That such beautiful land is the background to such a devastating human landscape of poverty and disease is ironic.  As Jake and I walked all across the Kurian countryside so I could learn the favored routes to visit our farmers I thought about this irony.
History.  East Africa is considered the craddle of mankind.  Discoveries in the Olduvia Gorge by the Leakeys' in 1959 and in Lake Turkana confirmed some of man's earliest remains.  The Indian Ocean's monsoon winds brought the first foreigners and by the 8th century Arabs had settled on the coast establishing rich trade routes which sent off leopard skins, tortoise shells, ivory, rhinoceros horns, gold and slaves in exchange for metal tools, swords and other implements of a 'civilized' culture.  This Arab-African contact spawned the birth of the Swahili culture.  By the 15th century the Portuguese conquered most of what is now coastal Kenya; then the Omani's ruled, profiting from a lucrative slave trade ran from their new sultanate's capital, Zanzibar.  Slavery was banned by a league of Christian nations in 1873 and the British sent delegates to enforce the new treaty.  By 1887, realizing the richness of the region and with the support of a growing empire, the British established the Imperial British East Africa Company.  Railroads and infrastructure were built to support the trade.  In 1920 Kenya became a crown colony and an independent republic in 1964.  The nature of politics here are fascinating, tribal and turbulent.  I'm looking forward to trips to Nairobi to debate with the Cereals and NGO Board and to meet with the Ministries in advocacy of Nuru's cause.  I think this will prove to be a fascinating and frustrating aspect of my job here.
My job here.  Nuru International is a U.S.-based social venture started by my friend Jake Harriman that equips the poor living in remote, rural areas to end extreme poverty in their communities. Nuru is a Kiswahili word that means "light." Nuru International currently works in rural Kenya.  He was inspired by his time in the Marine Corps that there needed to be a development angle to fighting terrorism.  His thesis is that by ending extreme poverty, we can curb the recruitment of thousands to the terrorists ranks. He spent his time at Stanford Business School developing his model which are inspired by the eco-system of Palo Alto's best approaches to design thinking. Nuru defines extreme poverty not strictly in an economic sense, but rather by describing it in a holistic context predicated on basic human rights, specifically the ability to have access to meaningful choices.  Nuru started here in Kuria West and has done nothing any other development company has ever done…they have created an enabling environment in which local people can be the answers to their own problems.  The mission of Nuru International in Kenya is to exit and leave behind Nuru Kenya (NK) which would be the world's first self-
sustaining, self-scaling, integrated development model to end extreme poverty.  Nuru Kenya has four "impact programs" (agriculture, community economic development (or, simply, a savings collective that allows families to survive economic shocks, including hunger seasons and disease), education and healthcare); these impact programs are supported by a monitoring and evaluation program which monitors impact and fueled by a social enterprise division which is a for-profit entity that earns money and directly supports the non-profit work and a leadership program that develops local leaders and enables them to spread the Nuru model throughout the country.  Jake's vision is bold.  Something like this has never been done before, which has the attention of many philanthropists dissatisfied with the NGO status-quo. But when talking to him you feel like you're in the presence of a Steve Jobs or Einstein…someone who truly believes the world can be changed and has the capacity to effect such change…truly put a ding in the universe.  The Ethiopia program started this summer, which will hopefully prove that the success of the Nuru design model is not specific to Kenya.  Then Jake will take Nuru to a post-conflict state.  Refine the "technology" and make the "design" open source to governments, NGO's and businesses around the world. My job in all this?  I'm the Team Leader for a bunch of wonderful development specialists.  I have five main tasks over the next two years: 1.) Manage and prepare an Executive Director for Nuru Kenya and 280 local staff, 2.) ensure each impact program proves impact; 3.) manage the NK budget, 4.) lead, develop and care for the Ex-pat foundation team and 5.) scale Nuru Kenya into a second district.  These five things will drive us towards our overall goal:  Nuru International's exit from Kenya by the end of 2015. It's going to be a busy two years…
Hard & simple.  I sipped on a warm Tusker beer yesterday after the day's work, watching the busy activity of the valley from a plastic chair on our compound's porch.  I reflected on the week. Farmers moved slowly home from their fields. Mothers were busy around fires and children were carrying water home in bunches of two and three.  It felt good to be here.  Free of a constant buzz.  Free of my smartphone and the news of the world.  Here the air was thick and sweet smelling.  The rains quickly approached from the Tanzanian plains.  It felt good to be in the rain, drinking warm Kenyan beer.  I went inside and looked at my room. A bed.  A desk.  A couple pairs of pants, a few shirts.  Two books, a few pens. A coffee cup.  My knife.  Muddy boots. A few hundred Kenyan Schillings ($3 or $4 worth).  It was simple.  The mission ahead will be a hard one for our team and local counter-parts here.  And for those farmers we serve and those we will try to serve in the years ahead who face extreme poverty each day, exponentially harder.  That said, it's nice to face 'the hard' from a position of simplicity.  After all, that's something we all know to be true — what's most important us is often the most simple…
Tutaonana baadaye,
Alex
Tags: Alex Martin, USMC