December 22nd, 2009 Posted in
The SandGram v1.0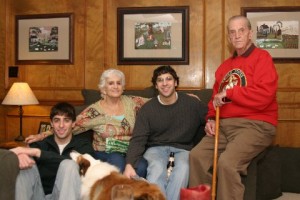 There are times when you receive an email that draws such raw emotions out of you that it's possible to cry over your keyboard.  This past July, I opened my mailbox to read one of those emails, and it was titled A burial at Sea (hyperlinked here) by LtCol George Goodson USMC (Ret). This article was written around 2004, not long after the war began and I wondered if this was a true story or just another well-written Internet piece that was circulating in the ethersphere from one mailbox to another, constantly forwarded, for good reason, as people recognize a well put together memoir from long ago.  I felt the power of his message so much, that I published it right away.
I experienced emotions buried deep in my conscious from over twelve years ago when I, too, was tasked to deliver the news to the spouse of one of our Marines who was killed the night before in an auto accident.  You never forget putting on your Dress Blues, rehearsing what you will say to his wife or the gut punch as his young son opens the door to greet you while you stand there in Uniform.  George's article brought all that to my forefront as I sat weeping in front of my computer.
I felt the urge to track him down one morning and talk to him about his time in the Corps.  Putting on my past hat as a private investigator, I found him at home with his wife enjoying a nice cup of coffee, oblivious to how his piece had affected thousands across the nation.  I have to admit that I was a bit tongue-tied as I stumbled through my introduction as to why I was cold calling him.  He was very humble about his service in the Corps and receptive to my call.  I set up a time to call him back that afternoon to catch up.  The hours slowly passed as I tended to our sick kids suffering from Strep throat and later while they napped, I dialed his number.
Now we are the same rank, but somehow I feel as though I'm speaking to a former General thus my conversation is laced with "Yes Sir's" etc. to which George says, "Quit calling me Sir, you can call me George." This makes me smile, and I reply "Ok George, you can call me Taco, all my friends do and it's better than Tinker Bell."  George is 81 years old now and has had some rough patches with his health but I imagine a man 6'4 who is still in great health in my mind's eye.  He laughs and reminds me he is about 5'9 and not a superman but his wife is, as she teaches water aerobics every day. 
George grew up in the rural south, in a depression era family where one child was the norm and comes from a long line of Americans as one of his ancestors arrived in 1656.  His father, a machinist, had a strong influence on his upbringing, making George the man he is today and unfortunately he died from a heart attack shortly after George joined the Marines in 1951.  I asked him what the deciding factor was leading him to service in the Corps.  Was it a family member, or growing up watching John Wayne movies?  George was quick to point out that he just wanted to shake the dust of that tiny little town off of his legs and see the world.  He despised John Wayne because he never served in the Great War but he did admire the stars like Jimmy Stewart and Ty Powers who fought in combat.  (I too despise some of the stars of Hollywood today for their lack of backbone and apparent greed, and love the few that go support our troops in the war).
As we spoke, George reflected on his "I Love Me Wall", (most of us have such a spot in our offices where we display awards and unit plaques).  His first MOS was in demolition and he attended school in Camp LeJeune followed by an opportunity to serve in more specialized warfare.   He attended Army Special Forces training in the fifties and rates both the Army and Marine Jump wings, with over 139 jumps, many in combat, and has earned several awards including the Legion of Merit, Bronze Star with Combat V, Purple hearts and even an Air Medal. 
I asked about some of his wounds and if they all came from Vietnam.  He then told me about an operation in 1965 when President Lyndon Johnson sent 42,000 Marines and Soldiers down to the Dominican Republic to restore peace and ensure there wasn't a second "Cuba" on the doorstep of the United States."   It turns out that he was shot in the head and the bullet didn't penetrate that deep in his skull because the fella that shot him was in the surf on the beach and his gun was half submerged.  The Surgeon used a pair of pliers to remove the bullet and sent him on his merry way to rejoin his unit. (with a splitting headache I imagine)
This wasn't the first time he had been shot or blown up.  While he was attached to the U.S. Military Assistance Command (MACV-SOG) Special Operations Group, he was billeted at the Victoria Hotel in downtown Saigon.  The VC detonated a bomb at the hotel on April 1st 1966 while he was asleep.  A combination of luck and his own strength allowed him to make it out of the hotel and to the US Embassy not far away, where his wounds were treated.  He wrote a story titled "September Song" detailing that experience.  He read some over the phone and after I type it up, will publish a few excerpts which will be in a future post.
He and his wife have children from previous marriages, and felt that it was important to put some of his experiences on paper so they would understand what war was about and the emotions he still feels today. Especially when he looks at the pictures on the wall in his study which include one of two crying Marines, sitting on "G.I." cans.  He has it on the wall to remind him what war is about, and in his words, "it sucks!"
George is extremely proud of his time in uniform and his service throughout the world and doesn't regret anything.  He is an icon in the internet world of electrons and doesn't even realize it.  His prolific writings resonate with so many of us who have served in the military, and will be a timeless reflection on the price of war and what it extracts from our men and women.  LtCol Goodson, your service in the Marine Corps for our country will be remembered in the words you so eloquently expressed when you penned A Burial at Sea and will be for many generations to come.  For that, I think I can speak on behalf of the thousands of readers out there when I say, "we thank you Sir!!"
It was a real honor to speak with him, and I look forward to more conversations with this Great American!  I hope all of you deployed overseas have a calm and peaceful day on the 25th and I want to wish all of you reading this a very Merry Christmas and God Bless you all.
Semper Fi,        
Taco
Tags: A burial at Sea, Burial at Sea, George Goodson, LtCol George Goodson USMC (Ret)