July 19th, 2012 Posted in
The SandGram v1.0
There are some sick people out there.  In the last 9 months, over 98 posers have been exposed via sites like mine and my all time favorite "This Ain't Hell" and of course "Stolen Valor" on Facebook.  It's the cowards that I hate the most who use real photos of fallen hero's for their sick and twisted pleasure.
Right now there is some guy going by the name of "Tito Rodriguez" on Facebook with a Silver Star on his homepage.  The guys over at Guardian of Valor posted this on him.  He has about 60 friends including a "Richard Johnson" (real original) who carries on conversations with Tito about Ops going FUBAR in Somalia.  To me, this is the same person carrying on these conversations to bolster his creds of being a secret Special Ops guy.  Yes, it's the same sick guy.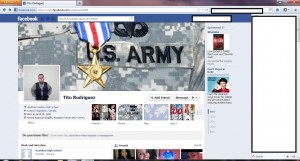 What has me very upset is this guy "Richard Johnson" is truly a real hero named Sergeant Robert Daniel Sanchez, who died on Oct 1st 2009.  His page is here http://www.1stbn75thrgrregtmemorial.com/RangerMemorialMemorySanchez.htm
From his page
Sergeant Robert Daniel Sanchez of Satellite Beach, Florida graduated from Satellite Senior High School and enlisted in the United States Army in July of 2004.  He began his Army Ranger career when he was assigned to B Company, 1st Battalion, 75th Ranger Regiment where he served as an automatic rifleman and team leader.  He was currently serving his fifth deployment in support of the War on Terror with three previous deployments to Iraq and one to Afghanistan.  His military education includes the Basic Airborne Course, Ranger Indoctrination Program, US Army Ranger Course, Emergency Medic Technician Basic Course and Jumpmaster Course.  His awards and decorations include the Ranger Tab, Combat Infantryman's Badge, Expert Infantryman's Badge, Parachutist Badge, Army Commendation Medal, Joint Service Achievement Medal, Army Good Conduct Medal,  National Defense Service Medal, Afghanistan Service Medal, and Army Service Ribbon.  Robert is survived by his parents 1SG Will and Wendy Holland and brothers Jacob Goldberg and Logan Holland and Maternal Grandparents, James and Mary Wilson.  Robert was killed at age 24 in Kandahar Province, Afghanistan during a combat operation involving multiple enemy contacts, killing nine enemy combatants and destroying a large weapons cache.
So, with that being said, here is a real Hero being used by some sick bastard who should be sent to the Taliban gift wrapped with a rusty sword.  Please feel free to send both of these profiles a love letter letting him know how you feel about him and his fake pages…
Semper Fi, Taco
https://www.facebook.com/snakeeater1985
https://www.facebook.com/profile.php?id=100002419320951
Tags: FB posers, Sgt Roberto Sanchez, Stolen Valor, Tito Rodriguez