June 13th, 2012 Posted in
The SandGram v1.0
Bloaters: The new Breed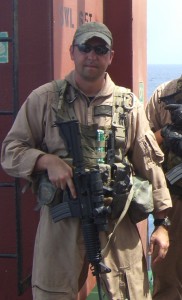 It's funny how some things work out. I received a phone call from Jug Burkett (author of Stolen Valor) asking if I wanted to help out a Stolen Valor researcher he was dealing with. This researcher is looking into a guy claiming to be a recipient of the Silver Star and Purple Heart from the Marine Corps. I am always glad to help him out and also to work on Marine issues. The only problem is that my buddy Jonn Lilyea over at "This Ain't Hell" Beat me to the punch and has already published this story. Dang I hate the Army sometimes!
In this case, the researcher did a pretty good job of getting her ducks in a row concerning this individual and through proper channels up at Quantico, was able to get an internal audit done of a former Marine named Aleksandar "Alex" Popovic, the CEO of Greyside Group. Attached here is Alex's resume with his claims of the Silver Star and Purple Heart and then of the Internal memo done by HQ USMC that is now in this individuals record.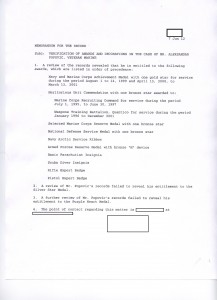 His FIOA request is a few months old and should arrive any day now. We are facing a new category of former Military guys. They aren't Posers in the normal sense we are use to(having never served), they are more like "Bloaters", people who claim more then they rate. In this case, Alex was a Marine, a Sniper no less and did rate some medals/ribbons but not what he claims and not the Silver Star. Doug Sterner has a pretty complete list of EVERY medal issued by branch and date. In the Marine Corps, the only Popovic that comes up close to this unique spelling is one from WWII and another one from Korea and since he was born in 1972, I doubt he is one of those.
http://www.militarytimes.com/citations-medals-awards/search.php
Here is the problem with "Bloaters" out there. They use these claims of false Valor to do things like promote their company as say a Wounded Veteran and apply online for jobs like the links below scoring contracts they may not deserve. Now in this case, maybe he fell off of a truck and broke his back and has a claim in with the VA. Maybe like many Marines, his knees are shot and he rates disability or maybe he rates disability (non service related) from an injury as a contractor in the war somewhere so he files as a Vet (which he is) and disabled (which he is) but not a disabled in the line of Service with the Corps type guy. All a game of words.
Here is the definition of a Service-Disabled Veteran Company from Wikipedia http://en.wikipedia.org/wiki/Service-Disabled_Veteran-Owned_Small_Business
A business hoping to be considered "Service-Disabled Veteran" must be at least 51% owned by an individual who can be considered by the government as a Service-Disabled Veteran. The terms "veteran" and "service-disabled veteran" are defined in 38 U.S.C 101(2) and (16). The following definitions are as stated in that code. Veteran- The term "veteran" means a person who served in the active military, naval, or air service, and who was discharged or released under conditions other than dishonorable. Service Disabled- with respect to disability, that such disability was incurred or aggravated in line of duty in the active military, naval, or air service. An injury or disease incurred during military service will be deemed to have been incurred in the line of duty unless the disability was caused by the veteran's own misconduct or abuse of alcohol or drugs, or was incurred while absent without permission or while confined by military or civilian authorities for serious crimes. Note that this definition does not require the disability to be causally connected to military service. Such disability does not require a minimum rating to be considered. A veteran with a 0 to 100% disability rating is eligible to self-represent as a Service-Disabled Veteran for Federal contracting purposes. Security funds of deposit in the scheduled amount of $12000.00 are required under Sec.8.1487, revised 2007,to ensure compliance of awarded contracts and supplies, there-of, for twelve -12- consecutive months upon classification and submission for registration under this program.
This is in compliance with (15 U.S.C 644(g)) for program institution to the SDVOSB and authorized Veteran Applicant. Upon satisfactory performance of awarded Contracts,Services and or Supply facilitation by the SDVOSB, subject depository funds will be issued back to the performing SDVOSB at the end of the 12-Month Calendar performance period at -0%- interest in favor of the U.S Government. Background For a veteran who suffers a disability while in military service, the US Government has deemed it its moral obligation to provide the disabled veteran a range of benefits designed to ease the economic and other losses and disadvantages incurred as a consequence of the disability. These benefits include Government assistance for entering the Federal procurement marketplace. To achieve that objective, agencies shall more effectively implement section 15(g) of the Small Business Act (15 U.S.C. 644(g)), which provides that the President must establish a goal of not less than 3 percent for participation by service-disabled veteran owned businesses in Federal contracting, and section 36 of that Act (15 U.S.C. 657f), which gives agency contracting officers the authority to reserve certain procurements for service-disabled veteran-owned businesses.
In this case, here is what he lists out there for Government contracts:
Popovic Alex GREYSIDE GROUP, INC. 12801 WORLDGATE DR STE 500 HERNDON, VA 201704395 USA Email: APopovic@greysidegroup.com Phone: 7038713993 Self-Certified Small Disadvantaged Business, For-Profit Organization, Veteran Owned Business, Service Disabled Veteran Owned, Contracts, S Corporation 519190, 525990, 541611, 541618, 541620, 561611, 561612, 561720, 561990, 611430, 611699, 928110, 928120 https://www.fbo.gov/index?tab=ivl&s=opportunity&mode=form&id=447bb75590bddcf9b41fdc95b3f4208a&tabmode=list&_so_list_sort9a15dfc9a75119393533747dabcfae37=fname%3Aasc
https://www.fbo.gov/index?tab=ivl&s=opportunity&mode=form&id=447bb75590bddcf9b41fdc95b3f4208a&tabmode=list&_so_list_sort9a15dfc9a75119393533747dabcfae37=fname%3Aasc
https://www.fbo.gov/index?tab=ivl&s=opportunity&mode=form&id=356a8281dc097ae55d4f5a0e28702e61&tabmode=list&_so_list_sort9a15dfc9a75119393533747dabcfae37=lname%3Anone
https://www.fbo.gov/index?s=opportunity&mode=form&id=8157f6b5eec1670b0051a1585f400c62&tab=ivl&tabmode=list&_so_list_sort062209cb40f2bfe4e213919f1c740a36=lname%3Adesc
https://www.fbo.gov/index?s=opportunity&mode=form&id=32ded0019103c4ccdf28cc131d0e81a9&tab=ivl&tabmode=list&subtab=list&subtabmode=list
http://greysidegroup.com/wp-content/uploads/2012/04/Global_federal-lawsuit-against-Rob-Caulfield_Chris-Mark_Chris-Gowins_Spencer-Geissinger_James-Kirsop-Taylor1.pdf
What if your Bio is a mix of truth and lies? What if you were able to get investors to put large sums of money into your company based off of your pedigree? This is not the first time I have seen this. There is a guy up in NYC who owns a camping outdoors store, he failed out of flight school but tells everyone he flew jets in the Navy. While this is a true statement, "he flew Jets in the Navy" he gives the impression on his store bio that he served aboard carriers in the Gulf and fought overseas which didn't happen. He washed out. I got a ride in the back of an A-4 once and landed on the USS Lexington but I don't tell people that I was fighter pilot.
This sort of "Bloating" is really getting out of hand. His Bio, which has since been removed from his website tells a story of glory but it's a stark contrast with the memo from Quantico which really shows this as a normal Marine who served honorably. I'm sure his lawyers will contact us telling us to take this down or get sued, so standby Mr. Lawyer, we will be glad to go to court armed with his Bio and subpoenas for emails from him with his bio attached that he sent out. I would advise you to do some digging on your client before you accept that job. Doing a forensic study of these emails will prove they came directly from him. All this will be part of the court records down the road showing what he claims to be his record. With the FOIA from the DOD, his claims of valor via his bio and witnesses, I think we'd have a lot of fun in court and the DOD may look into his Top Secret clearance as well through this.
Semper Fi, Taco
Tags: Aleksandar "Alex" Popovic, Bloated Marine exposed, Bloater, Greyside group, Marine Sniper, proffessional Mariner, Stolen Valor, This ain't hell