July 3rd, 2011 Posted in
Military
,
The SandGram v1.0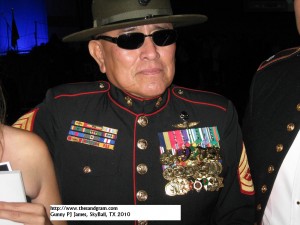 Dear Gunny Perry James or PJ as you address yourself.
I have to say that while typing this letter, a wave of consternation overcomes me and I take no pleasure in outing you to the general public but it is my duty at this point. See, in the audience that night at the SkyBall in Fort Worth, TX, there were some really terrific young men in wheel chairs, wounded in action over in Iraq and Afghanistan who truly rated the Purple Hearts and Bronze Stars that were so prominently displayed on your uniform.
One of them, Corporal Alan Babin was wounded in 2003 while performing his duties as a medic and was brought down by small arms fire as he rushed exposed to save a Platoon mate. His thoughtless devotion to his men almost got himself killed and there he sat in his wheel chair, a Purple Heart and Bronze Star with combat "V" on his suit, looking at your uniform on the 75 foot jumbotron TV screen while you were up on stage parading around in your Dress Blues. He was probably wishing he had been as lucky as you to be so mobile.
You didn't give yourself the Navy Cross or Silver Star although the Navy Marine Corps Medal is the equivalent to the peacetime Silver Star. You have inflated your achievements and the biggest of your problems will come from the first medal on the second row, the POW Medal. There are a lot of guys who take issue with this. You told me that you were held POW for four days and hung upside down the whole time before escaping. At this point, we know you weren't a POW unless you have some paperwork that the Marine Corps doesn't have. I mean, come on Gunny, you retired before the Joint Meritorious Unit Award (JMUC) or the Global War on Terrorism/Expeditionary (GWOT) medals were even issued so how can you really think you rate them? The Cold War medal really got a chuckle out of me and I'm not sure the Navajo Indian Service Medal isn't allowed either.
There are so few POW's that when I contacted Mary over at the POW/MIA site, they ordered a FIOA request for your records and there it all was. NO POW recorded in your name. In fact, you only rate about 6 of the medals you are wearing. As of 2002, the date on your awards page, you rated the Bronze Star, Purple Heart with one gold star, a Navy Achievement medal with Combat V, the National Defense medal, the Humanitarian Service medal and the Good conduct Medal with the Republic of VN Campaign Medal coming in last. Below is your FOIA.
james_perry
Then you have a PUC/NUC/MUC/CAR and Rep of VN meritorious unit citation of Gallantry cross with one silver star and the same with the civil action 1st class with Palm on the ribbon side.
Here is what you were wearing, broken down Marine fashion…
stolen valor2
No record of being on recruiting duty (recruiter's aide doesn't count-you need three years) or as a Marine Security Guard. You rate one tour on the drill field and that's about it, which I will give you and put on the rack below. No Recon training, jump wings or scuba training unless that was all done for some "Top Secret" mission.
The incredible thing is you are a Marine. You are in my opinion, a VERY decorated Marine in the first place. Why add all the bling to your rack? You should be very proud of your service (I am proud of you!) and content with what you earned (a very prestigious career). Now do yourself a favor, go back to wearing what you rate. I think this is probably an accurate reflection with out all the extra stuff thanks to MyServicepride.com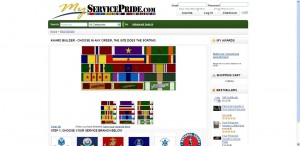 If you can submit proof that you rate all the extra medals, I would be happy to post a public apology. If you can't then I probably wouldn't go on anymore floats for Veterans day or tell the media that you were a VN POW or attend my balls out of uniform.
Semper Fi,
Taco
Update:  I was looking around the net when Keith Little died, the head of the Navajo Code talker and found this film on C-SPAN, fast forward up to 12:30 and listen to the intro of Gunny PJ James…   then I found another shot of him at this event.  Good Ole Gunny bottom right with the flag.
Tags: fake awards, Gunny PJ James, Inflated awards, Keith Little, Marine Poser, Navajo Code Talker Association, Navajo Code Talkers, not a poser, POW/MIA Network, Stolen Valor