January 16th, 2011 Posted in
The SandGram v1.0
Poser of the week is…Drum Roll, Bob Angel
My friend Matt Massie over at MyServicepride.com slaves daily putting orders together for customers all over the world and sometimes he gets an order that makes him scratch his head.  This one order was just a bit over the top and I guess the Poser figured Matt, the guy doing the coffee mugs didn't know his way around a Ribbon Rack.  He was wrong.  Bob Angel posted a profile over at Military.com claiming to be a part of Seal Team 3 and I wanted to show snap a shot of it but he deleted it as of today.  Matt sent Bob's request to a real Seal from that team and three different sources to be sure he is a poser.  Ben, another member of MyServicepride.com also found this guy on VetFriends.com with a profile basically saying the same thing.  Here is the Rack the guy claimed to have.
6 Purple hearts is almost unheard of. In Vietnam, most people declined any PH Medals over #3 because a 4th meant you're going home and it was very difficult to ever rotate back into theater afterwards. Also, this is only 2 away from the most ever awarded. (Only 2 from Vietnam got 8. One had a Silver Star, the other was a CMOH Recipient. Hackworth had 4 in Korea and 4 in Vietnam.)
6 Bronze Stars and 6 Meritorious Service Medals, but no Navy Commendations or Achievement Medals. To compare, the ACMC has 1 Navy Ach. Medal, 4 Navy Comms, 2 MSMs. I would say it's nearly impossible to walk on water  for 6 MSM's and 6 BSM, but never get a Navy Comm or Navy Ach. Medal.
6 NAVY Presidential Unit Citations during the Vietnam Era would require someone to be in 2 places at once at least 2 times.
No Navy Sea Service Deployment Ribbons or Overseas Service Ribbons. Rare for any squid or Jarhead.
No National Defense Service Medal
Matt then wrote a really nice letter (below) to this Person explaining why he was refunding his order and basically to pound sand!  I love MyServicepride.com they rock!
Mr. Angel,
I have cancelled your order and refunded the full amount back to you. After 2 independent verifications from within the Navy Special Warfare Community, there is no record of you ever having graduated BUD/S and no record of you having been awarded 6 Purple Hearts, to name only two of many discrepancies with the awards shown in your order. Your account on my website has been deleted and any future accounts you may try to make will also be deleted.
 
"UDT/SEAL/SEA-BEE
I served proudly with SEAL TEAM 3, At the same time with RIVER PATROL BOATS, And an ENGINEER ON UDT TEAM 12. These were the best of the times in my in service of my country. REMEMBER–ALL OF US GAVE SOME, BUT SOME OF US GAVE ALL!! B.G. Angel MRC RET. "
Posted by Bob Angel
You leave a trail, Mr. Angel and this fraudulent behavior is criminal.
I refer you to U.S. Title Code TITLE 18 > PART I > CHAPTER 33 > § 704. Military medals or decorations
http://www.law.cornell.edu/uscode/html/uscode18/usc_sec_18_00000704—-000-.html
(b) False Claims About Receipt of Military Decorations or Medals.- Whoever falsely represents himself or herself, verbally or in writing, to have been awarded any decoration or medal authorized by Congress for the Armed Forces of the United States, any of the service medals or badges awarded to the members of such forces, the ribbon, button, or rosette of any such badge, decoration, or medal, or any colorable imitation of such item shall be fined under this title, imprisoned not more than six months, or both.
&
(d) Enhanced Penalty for Offenses Involving Certain Other Medals.- If a decoration or medal involved in an offense described in subsection (a) or (b) is a distinguished-service cross awarded under section 3742 of title 10, a Navy cross awarded under section 6242 of title 10, an Air Force cross awarded under section 8742 of section 10, a silver star awarded under section 3746, 6244, or 8746 of title 10, a Purple Heart awarded under section 1129 of title 10, or any replacement or duplicate medal for such medal as authorized by law, in lieu of the punishment provided in the applicable subsection, the offender shall be fined under this title, imprisoned not more than 1 year, or both.
Stay away from my website. You are not welcome here.  If Bob Angel the Navy SEAL pops up again in another forum, website or other military community, your information will be forwarded to the Federal Bureau of Investigation.
Matt Massie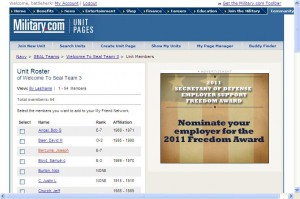 Tags: Bob Angel, Fake Medals, Fake Navy Seal, MyServicePride.com, Poser Navy Seal