October 27th, 2010 Posted in
The SandGram v1.0
I have been advised to pull all this down until a FOIA comes out. So Please enjoy the photo's from last weekend's SkyBall and some of the more famous folks attending like the Marine "Gunny"PJ James, who is sporting a nice POW medal among others…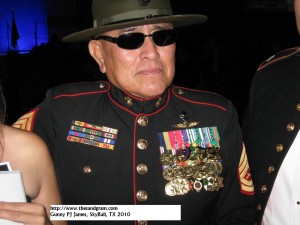 H/T to Fadesun:
MCO P1020.34F
MARINE CORPS UNIFORM REGULATIONS
7003. CAMPAIGN (SERVICE) HAT
1. The campaign hat may be worn with the duty uniform by Marines listed below, and is not authorized for leave, liberty, or in formation with troops, except as required for drill instructors. It will not be worn with the Blue Dress "A"/"B" uniforms. Service cap branch of service insignia will be worn in the center front ventilation eyelet. Hats, brims, chinstraps, and hat cords will be kept in a neat and serviceable condition. No deviation from the original shape and design of the hat is authorized.
Thanks Sgt. Grimaldi for this awesome Breakdown the medals on this war hear's chest. Also to Cpl Moore for finding the last medal which is some Navajo Indian Military Service Medal (which we aren't allowed to wear)  Great job…
Here is a break down of his medals… stolen valor2
This was just sent to me by Mary at POW/MIA Network, and it's a FOIA on this Marine  which shows what he really has earned.  Damn shame that just being a wounded Vet from VN is just not enough.  james_perry FOIA
Navy Marine Corp Medal (this is a very high award for heroism given out in Peace time. I knew a Marine who died saving three people from a horrible car crash before he died. It's a very high award.)
3 Bronze Stars with Combat "V" for Valor
5 Purple Hearts
Joint Service Commendation Medal with Combat "V" for Valor (hard for Marines to get this. You have to be on a joint tour.)
3 Navy Comms with Combat "V" for Valor
Joint Service Achievement Medal with Combat "V" for Valor
4 Navy Achievement medals with Combat "V" for Valor
POW Medal  (no record of him as a POW)
Good Conduct Medal
National Defense Medal
Global War on Terrorism Expeditionary Medal (issued after 2003)
Global War on Terrorism Service Medal (issued after 2003)
Armed Forces Service Medal(issued after 1996)
Humanitarian Service Medal
Vietnam Gallantry Cross
Vietnam Wound Medal
Vietnam Civil actions
Republic of Vietnam Campaign Medal
Cold War Victory Medal (never a medal, it was a Cert Comm they issued out, these medals were a novelty)
And the final is a mystery?????? Actually a Navajo Indian "I served in the Military" thing given to the tribe in 1982. Not allowed on Marines's uniform
The Ribbons
4 Combat action Ribbons (means you were in combat operations)
2 Presidential Unit Citation
Join Meritorious Unit Award (started in 1982)
2 Navy Unit Commendations
4 Meritorious Unit commendations
4 Sea Service Deployment Ribbons
Recruiting Duty (three year tour) – he was a Rec Aide not a recruiter thus he doesn't rate this…
2 D.I. Ribbons (two years a tour= four years total) FOIA shows one tour
Marine Security Guard Ribbon (three year tour) FOIA SHOWS NO TOUR THERE
RVN Gallantry Cross Unit Citation
RVN Civil Action Unit Citation
RVN Presidential Unit Citation
Here he is on Facebook in different parades etc.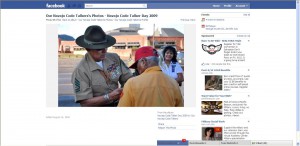 http://njamf.com/index.php/navajo-code-talkers
Traveling with the Navajo Code Talkers was retired Marine Gunnery Sergeant PJ James, a former POW/MIA of the Vietnam War, and the first Navajo to become a Marine Drill Instructor. A descendant of Navajo Code Talkers, Gunnery Sergeant James is a life-time honorary member of the Navajo Code Talkers Association.  Some of the "Gunny's" military awards include the Navy/Marine Corps Medal, the Bronze Star Medal, the Purple Heart Medal, the POW Medal, and numerous unit and campaign medals and ribbons.
Some other events where he claims to be a POW from VN
Another guy guilty of the same things…
http://www.ctpost.com/news/article/Veteran-pleads-guilty-to-illegally-wearing-medals-1409571.php
Tags: Doug Sterner, Fake POW, Gunny PJ James, Home of Hero's, Inflated Marine Career, Mary and Chuck Shantag, Navajo Code Talkers, Perry James, POW, POW Network, SkyBall