May 15th, 2010 Posted in
The SandGram v1.0
Andrew "Andy" Diabo the Fake/Phony/Imposter Marine and his wife Evelynn, lost their house outside of Philly PA when it went on the auction block yesterday.  I joked that a real Vet should win the bid on the house for 50K, but no one bid on it.  With no bids, GMAC bought the deed for $892.00 total!! They can now go in and fix the house or raze it to start again.  Larry King wrote a great piece on it here at Philly.com
Bogus Marine's Dream home sold at auction: By Larry King
Bogus Marine's dream home sold at auction
May 15, 2010|By Larry King, Inquirer Staff Writer
"The dream home of the dreamt-up Marine was sold Friday at a Bucks County sheriff's sale.
The unfinished McMansion of Andrew A. Diabo – having sat abandoned and decaying for a decade while debts of $530,942 piled up – was claimed by his lender, GMAC Mortgage, for $892 in costs.
For years, Diabo, 38, had held unhappy neighbors, creditors, and township officials at bay by portraying himself as a decorated, wounded Marine pilot on constant deployment in Iraq and Afghanistan.
But as The Inquirer reported last month, it was a ruse he had parlayed into sympathetic stories in the local media, free legal help, and kid-gloves treatment by Tinicum Township regulators.
Diabo also used his fake military past to win a six-figure position with a Florida-based government contractor, according to documents obtained by The Inquirer.
Diabo's claim was officially debunked in March by military investigators in Washington, who found that the Canadian-born software expert had never been a Marine.
The finding prompted an ongoing federal criminal probe into Diabo, who seems nowhere to be found. In March, after being sent a cease-and-desist letter from the military, he vanished from Bucks County with his wife and young son.
Documents from the Marine Corps Inspector General's Office show Diabo was hired in 2008 as a Philadelphia-based senior computer consultant for Complete Inspection Systems Inc. of Indiatlantic, Fla.
A company letter dated March 1, 2008, describes the firm as a government contractor with projects for the Treasury Department, the National Security Agency, and Fortune 500 companies.
The same letter describes Diabo as "a senior Marine Corps commissioned officer who had served our country . . . so unselfishly in recent years," adding that the company can "learn and benefit [from] . . . his leadership capabilities."
A job description lists annual base pay of $120,000, a 401(k) package, medical benefits, and bonus programs. Company president Gary Parish did not return phone messages seeking comment.
It is illegal to falsely claim military service for personal benefit. It is also against federal law to falsely claim military honors or medals.
Diabo allegedly displayed Silver Star and Purple Heart plaques on a wall of his apartment along the Delaware River in Upper Black Eddy."
Diabo took off and is currently hiding out in Canada, possibly running wounded Vet scams up there. I doubt that he will be able to cross the border without one of our guys at the customs stall diverting him to a small room for a little one on one.
I promised his orders and today, you will see them, thanks to the FOIA.  He submitted false Gov't documents to GMAC claiming that he was mobilized to the war.  When I first looked at these things, It was apparent that they were fake.  They had a US Navy header and address (yes the Marine Corps is a Dept of the Navy, the Men's Dept!) and if he was a Marine, well enough said.  The address is a building at Pearl Harbor that housings the MWR office and a Pizza Hut/Subway
Then as you go through them line for line, all the mistakes begin to stand out.  To a civilian who may only see Military orders once every blue moon, they might pass muster. But, to anyone in the Military that deals with them often, they scream FAKE!  Basically, it looks as though he maybe found a set of Army orders and added USMC here and there to make them sort of Marineish.  I sent them to an Army buddy in the Pentagon who just laughed at them. He agreed that they must have come from some old set of Army orders but all of the font and as we call Naval Correspondence settings were incorrect.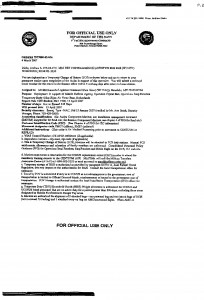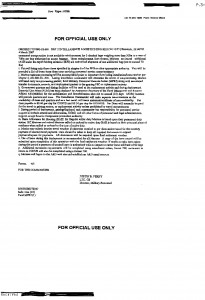 I'm going to leave it at that so that next poser doesn't use this post to make better orders. Just know that your fake orders will come across folks who know what to look for and they will be vetted.  Oh by the way, while the crime of Stolen Valor is a slap on the wrist in my mind, submitting fake orders and  you could be looking at up to 3 years in jail!    OOOOOOpppsss, big mistake uh?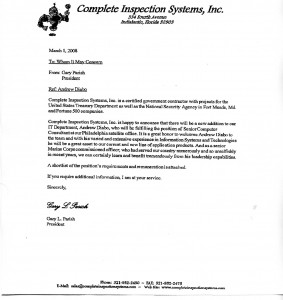 Then he used his scam to get a job with Complete Inspections Systems, a computer company in Florida.  He touted his experience as a Senior Marine Corps Officer who has served our country and could pass on his great leadership skills, blah, blah, blah.  Diabo claimed he was making $120K a year there. This letter was a forgery as well.  Diabo, as you hide in your hole up in Canada, NJ or NY, know that folks are looking for you and you haven't fallen off their radar yet.  I guess you could say that you are an HVT and if you were a real Marine, you would know what that means.  Good luck Poser.
Semper Fi,
Taco
Tags: Andrew Diabo, Fake Marine, fake Orders, House sold, Philly PA, Poser, Stolen Valor