September 16th, 2008 Posted in
Military
Dear Gang,
Among all the things that we do out here, there is a group of us who go outside the wire each week and distribute clothes, food and school supplies to the needy of our city. It's called the VCR (volunteer community relations) and it's about sixty strong. We vary the times and places on a weekly basis according to input we get from our interpreters who know this city like the back of their hand. It's a military run operation in terms of the convoy's and up armored military vehicles that escort us into some of the worst sections that border our city (opsec, so lets say Kandahar City) where people live in the most appalling conditions I have ever seen in my adult life. Believe me when I say that after flying around the world in the mighty KC-130 (over fifty different countries) there is no place that can compare to what I have seen here.
There are mainly two types of folks in Afghanistan, the rich and the poor. There are very few middle class to speak of so if you have money, then you need protection from the bad guys who prey on them for kidnappings and extortion.
The day starts out with a couple of convoy briefings on how we would handle an attack, then the Force Protection briefs on where they will be posted around the compound with Satellite shots of the area and the possible avenues of attack. This is followed by a general briefing on which group we are going to visit, what their status is in terms of the village elders, tribes, customs etc.
The drive out there through our city is interesting as we pass down the wide venues of shops and stalls out selling produce. Of course there are the meat shops with the carcass's all hanging outside covered in fly's (crazy). Approaching where they live, you drive down these things that they call a street, more like a dirt track with houses on each side; you pass through rivers of waste and sewage that run across the middle of the street in small trenches. In the summertime the smell is almost unbearable as the odors pass into the cabin of the hot vehicle and even with its AC running full bore, you want to vomit. A muddy mix of waste is plastered on the side of the car as you pass over each section of dirt in between trenches which covers the wetness with yet another layer of dust. People walking down the streets cover their faces with the traditional scarves wrapped around their heads to keep the dust from chocking them while the women are all in blue burka's.
Upon entering the compound, we dismount and set up a security perimeter with guards and have the village elders funneling families from his community in for their bundles containing food, clothes and other things donated from around the world. The distribution of the packages takes about an hour or so depending on how many families are involved with all members performing different duties. Playing with kids, Force Protection, and distribution are the three main functional areas of our trip. I remember on my first mission back in May, I made the mistake of holding a bunch of pens and pads of paper over my head as the mass of kids mobbed me. It only takes once to realize that these children will knock you down if you aren't careful, so from that point on I would spread load pens in different pockets and pull out a few at a time. You can tell when someone makes that same mistake as the yelling and volume of the children increase. I have to tell you that playing soccer in hot weather, 70 pounds of body armor on with a helmet, is interesting so to keep from over heating, I enjoy putting on magic shows or teaching them old Irish beer drinking songs. Last week, I taught them the Unicorn song that I learned from Seamus Kennedy, a famous Irish singer in Old Town Alexandria, where you sing "There were green alligators and long neck geese, some humpy back camels and chimpanzees, cat's, and rats and elephants and sure as you're born, the loveliest of is the Unicorn." (see if my video at the bottom plays- the unicorn song) All accompanied with all the hand gestures for them to follow. Then I had them chanting "Taco Bell is Number one" over and over… I've included photos here from several trips, which span the good and the bad.
Although it's super hot with all the gear on, it really is rewarding to see the joy on these kids faces. They truly have some great looking children here and makes me miss my own children a ton. Some of the houses they grow up in are nothing more then some bombed out mud huts or destroyed buildings that they claim as squatters. I've attached the VCR letter to this post, so if you are interested in helping, please read the letter and send a box to the address below.
Well, that's it guys, I hope you have a great day.
Semper Fi,
Taco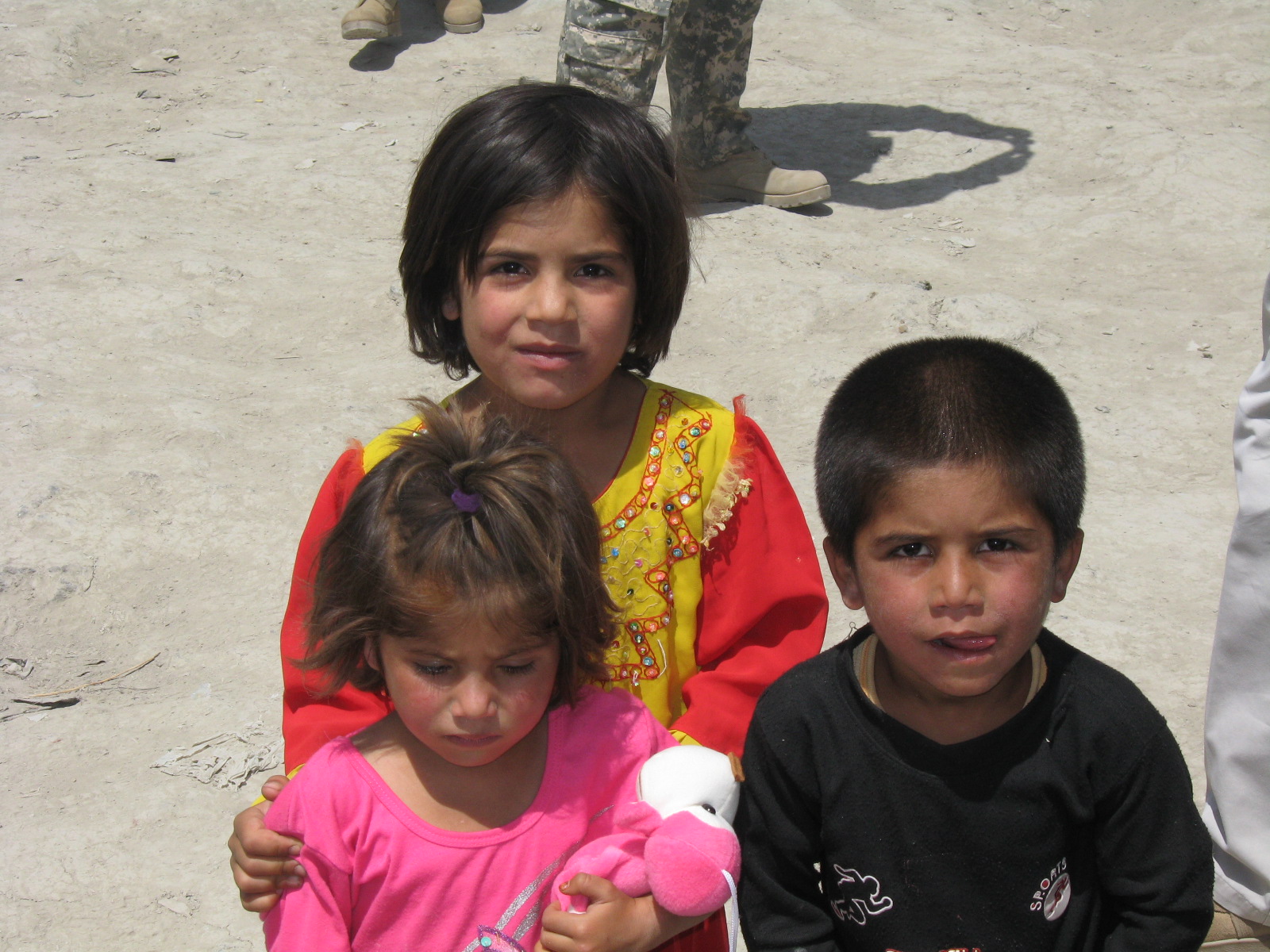 The Volunteer Community Relations (VCR) program enhances the partnership with the people of Afghanistan while providing a venue for US and Coalition troops to assist others. Through this program, Camp E's VCR volunteers interact with local nationals at various locations in the local area, including schools, orphanages, medical centers and Internally Displaced Persons camps. The Afghan people in these locations are not as fortunate as we are and could greatly benefit from your support to improve their quality of life. Conservative clothing for men, women, and children are most often needed. During winter months, items like gloves, mittens, hats, scarves, coats, and blankets are critical. Shoes, non-electronic toys, school supplies, and hygiene items are of great assistance too.
The VCR program is also involved with forwarding items to US service members located at smaller forward operating bases (FOBs) and other locations that may not have the PX facilities that most of the larger camps have. Donations of personal hygiene items, CD or DVD tapes, magazines, and other items that service members would enjoy are welcome.
The U.S. Postal Service now offers a new, larger flat-rate box with a military discount for those mailing to APO and FPO addresses. Regardless of how much they weigh, the boxes will cost $12.95 to mail for the general public, and $10.95 if mailed to an APO or FPO address. Customers can begin using the new flat-rate box at the new mailing rates. The boxes are free and are available online at http://www.usps.com/supplies or by calling (800) 610-8734.
If you have any of the above mentioned items that are new or gently used and would like to donate them, please mail to:
VCR
CSTC-A, Pool House
APO, AE 09356
Unfortunately we can't give religious material to the Afghan people, so please refrain from including this in your donations.
Camp E's VCR thanks you for your support. And so do the people of Afghanistan.
The Unicorn song
Tags: Afghanistan, the poor in Afghanistan, VCR