April 21st, 2012 Posted in
Military
This is from Don Shipley, a real SEAL who busts these guys left and right.  I thought this was pretty funny.  Skinny dude, medals from the first Gulf war and says he's 33? Now I'm a Marine and Math 101 isn't my strong suit but wouldn't that make him like 12 when he fought over there in '91?  He is listed on the POW/MIA site but they only had his first name of Greg and a crappy pictures.  Now we have it all.   His number is listed below, you might want to call and ask him how he got that age waiver.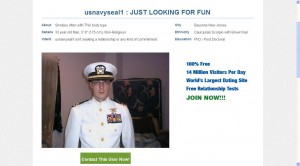 "I had my beautiful cousin call this asshole. She said she would be comming to New Jersey, loved his uniform and wanted to 'Hook Up.' He said his name was GREG SHAFFER." (sic) perhaps Shafer… His number is 201-315-7169. When she got his name I jumped in and asked his BUD/S Class and Team Assignment… He claimed Team THREE and BUD/S Class 103 in 1997…
Class 103 graduated training in 1979…
…
He hung up on me…
CLEARED HOT… Spank his phony ass, Guys…
Any information found please send me… "
****UPDATE****
This turd has been arrested for raping a 15 year old.  Great piece from The Gothamist here.  Great job guys!!!
http://gothamist.com/2012/06/05/fake_seal_allegedly_tricked_15-year.php
Tags: Fake Navy Seal, Greg Shaffer, Posers, Stolen Valor